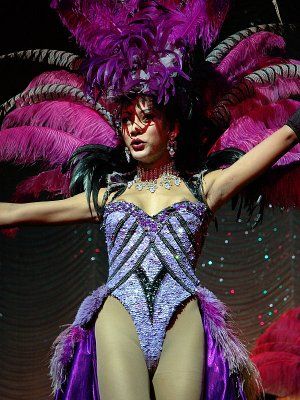 At first glance you may not know that the picture is any different from what you think it to be… but do read on!
The Alcazar Cabaret of Pattaya, Thailand is one of the major tourist attractions, whenever we returned from Pattaya we were questioned "Did you see the show?". So this time we took time out to watch the 75 min sound and light extravaganza!
Started by the Phettrakul Family more than 20 years ago Alcazar Cabaret, which is located on Pattaya 2nd Road, originally, was a small theatre of 350 seats with 40 employees. It is said that the show was not well received in the early days however the owners persevered and today Alcazar features a theatre with a capacity of 1,200 seats & 440 employees. The theatre is equipped with state of art light & sound system featuring the ultra high tech "Circle surround sound DTS system" & the most modern computer technology. Today, the Alcazar Cabaret is World Class!.
This show stands apart in one more aspect all the beautiful dancers are transvestites or were men!
Indeed Swati's remark at the end was true in more than one sense – this was so much like our Bollywood
Well judge for yourself – see the album with 47 pictures.