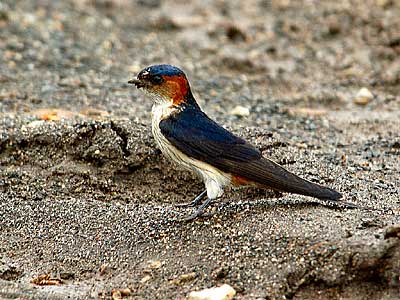 Monsoon finally hit Nagpur in all its glory on Friday – We celebrated the event by going out for a drive by the Telangkhedi lake side in near zero visibility with some friends.
Well, honestly, it was not planned that way, the plan was to go and see all the birds which feast on the flying termites which come out after the first (pre-monsoon) shower but we were expecting rains and the children were wanting to soak in the rain and for a few minutes all the adults revelled in being children 🙂
We later stopped at the famous Samosa walla and had piping hot Sams – apparently a whole lot of people had the same idea as us and the fellow was doing a roaring business.
Saturday saw us again out… The picture on the left was taken when suddenly this pretty bird alighted right in front of our car as soon as we stopped – It was a pair of Red Rumped Swallows and they were collecting mud for their nests. That day we also captured a Leucistic Jungle Babbler.