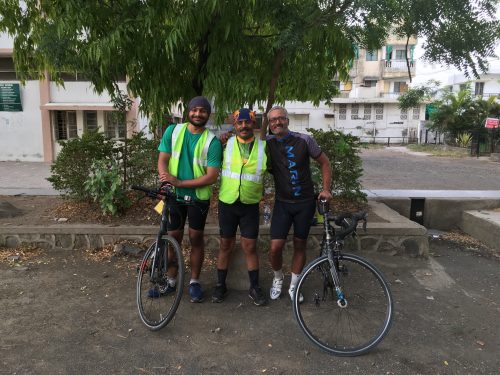 I quit because my cyclocomputer battery ran out!
Sounds pretty funny but that was indeed that last straw.
This Brevet had been in making since past 8 weeks when Swati decided that 12th June brevet is the one she wants to do. At that time she was doing about 50 kms. I volunteered to train with her and guide her in whatever megre way I could. Overcoming a bout of thrombophlebitis and several other myriad of ailments Swati did manage to get up to a point where she did a 125km ride. Under normal circumstances this is almost a safe bet for completing a 200km brevet. We had estimated that if we kept a total speed of 16kmph (that is moving + rest stops) we would be safe. The heat was a factor, specially on the outer ring road, Swati insisted she would still do it.
But this is not Swati's story, I will let her tell that – I was riding pretty slow, I would stop every few kilometers to let Swati catch up, however at the 84km mark we had already fallen behind the speed which we wanted, 16kmph. That was however by a very small bit – we could still make it.
The second checkpoint turn was a breeze. Misshappenings started as I turned into the NH44, I got a puncture, no problems. I changed the tube taking care to remove the offending wire which had managed to pierce my puncture resistant tyre. 7 mins! Started filling air and it just wouldn't inflate, tried several adjustments and managed to get a decent pressure. It was tiring work. A kilometer more and the tyre started deflating again. I repeated the drill but this left me very tired and I could not get the puncture repaired properly. The heat and humidity was taking its toll.
Swati passed by me and I told her that I may quit, she said that she would continue. I contemplated calling for the support vehicle but then on a whim got on to the saddle again. Another half a kilometer the display on my cyclocomputer blanked out with a blinking battery icon. I had no way to know how well I was doing and how much more to go. I was 7 hours into the ride, 95km more to go, it would need some figures and math to make it worthwhile. I picked up the phone and said "I quit"
Only 3 out of the 17 who participated completed this brevet. The heat was intense (43C) and the winds treacherous. Swati managed to do much more than me before she ran out of time at 148km.
Lessons learnt
I had realised during the training that irrespective of the speed, it is the duration in heat which ultimately gets to you. I have to increase the heat tolerance.
Need to be able to navigate and compute by just a watch and milestones.
Need to ensure pump etc working perfectly before starting.
If training someone need to be better with maths. 16 total speed throughout was too less, did not take into account that the speed decreases as the day progresses.
Being deliberately slow is more taxing, need to have tremendous stamina and experience to be able to do that
Oh well! there is always the next brevet…