tl;dr. To complete a brevet, get on your cycle start pedaling and keep at it, don't over eat at any checkpoint.
Yes, that more or less says it all. Kartik Mistry had warned me that every brevet will be different; I never cared to ask him how. Having completed a 200km brevet about six weeks ago, I should have been ready for a 300km if the books, experts, and the interwebs were to be believed. I had my diet all planned out, I had practiced well, I knew my cycle a bit more intimately, but a day prior I started having teeny weeny doubts.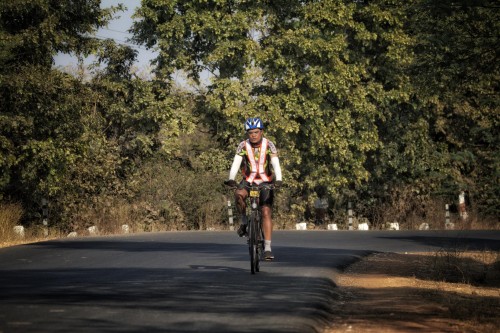 AWARE of Anxiety
I am prone to rare anxiety attacks, but when they are there, they can get bad, over a period I have also trained myself how to go thru them thanks to REBT.
I slept off, after setting an alarm for 4:00 am, 30 min would be more than enough to get ready and get to Zero Mile, the starting point.
3:00 am I woke up with a start; hazy thought flow flung me headlong into full-blown anxiety mode. I looked at the WhatsApp groups and sent "hum honge kaamiyab" (we shall overcome) to all my cycling groups. This was a part of the first step of AWARE to overcome panic. The parts of AWARE are Acknowledge & Accept, Wait, Watch or Work, Actions, Repeat, and End. It always works and is based on the principles of REBT and CBT.
The ride to the first checkpoint
I continued the Repeat step on reaching the starting point, talking to people, continuing it into the start of the ride telling several riders about my anxiety attack. Thanks to everyone who heard me out patiently.
The adrenaline of anxiety fueled the pedaling and I was soon coasting with the head pack. About 30 minutes into the ride I noticed that I was anxiety free and enjoying the speed. Someone did say that I will exhaust myself out, I tried slowing but found that it put me in an uncomfortably low cadence. I switched back to my 85-95. By now I had hooked up with Dev who was more or less doing the same speed as I was. The road till the first checkpoint was mostly flat or downward slope, and we kept remarking to each other that this will be a b***h to climb when we cycle back.
We reached the first checkpoint just a few minutes after Anirudh, Swati, Harsh, and Bianca, who were the marshals reached. Swati happily remarked that I had taken adequate amount of water. She ensured that I took enough calories, so we ate bananas, jam, and roti, drank coconut water, stretched and were off in 20 minutes but not before seeing Dr. Bhupendra Arya, Uncle, roll into the first checkpoint. If at 72 years he could dare it we should be able to do it!!!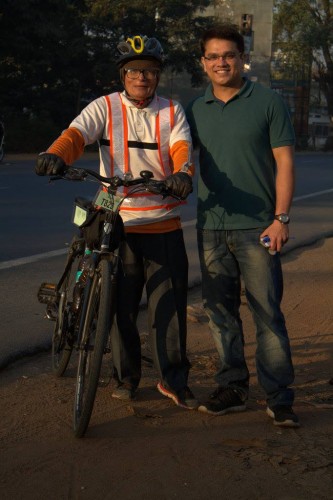 Maps are good Maps are bad.
The terrain around Nagpur is mostly flat so we cyclist dread the climbs. According to Google maps the climb (or whatever) was to start about 8 to 10km after the second checkpoint but, in reality, it started 8 to 10km before the second checkpoint.
The second checkpoint was as a Dhaba which served us hot Khichadi. I continued to be well hydrated and adequately fed.
The 200km riders were to return from here, and we would continue further to Gondia about 63km more out of which 40km was a slow climb according to maps but then it would flatten out. Well it did not! Rather it felt that it did not. The saving grace was that the route was thru the jungles and tree-lined which made it substantially cooler than the highway.
We entered Gondia town and were wondering which road to take when a Police constable called out and directed us to Dosa Hut our third checkpoint. He remarked that there were a few riders yesterday as well (the 400km participants), another motorcyclist came along and said he would guide us to the checkpoint. Yes, there are helpful people out there.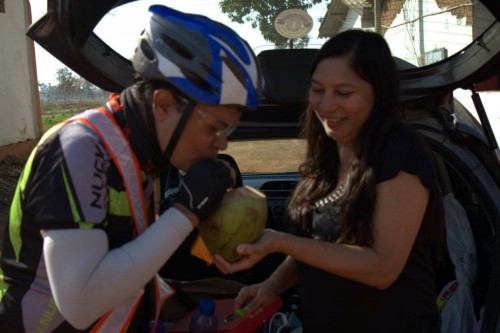 Do not overeat!!
While cursing the climbing road I had remarked that the Dosa at the Dosa Hut better be worth it. Yes, it was, and I ate not just one but before anyone else noticed I gobbled the second one too. Anirudh remarked that I should not have… How bad could it be? I thought. We were half way. The next 45km were mostly downhill. This was my near fatal mistake. The road was not as much of a downhill; it was a bit bumpy too. The chutney, sambar and rice in dosa by now was brewing a wicked concoction in my stomach which unleashed waves upon waves of nausea on me. I could not even dare to drink water.
Hey! I am a doctor I reminded myself, I carry medicines. I stopped, took out a pill but the moment I kept it in my mouth I knew if I swallowed it I would throw up and if threw up I would lose so much water and electrolytes that my muscles which were on the verge of cramping would definitely do so. I kept pedaling. Somewhere after the checkpoint I had pulled ahead of Dev, I was alone. I kept pedaling.
A few kilometers from the anticipated checkpoint I saw Swati's car parked along with one another on the road. She noticed me and called out, "This is the checkpoint!" Anil Jaiswal, Amol Kanthe and a few others were cooking chicken gravy in a field by the road. Swati was giving her expert inputs. An impromptu picnic was in progress.  They had also laid down a darri with a pillow. I told them what was happening, and I lay down. I closed my eyes and meditated. Though there was no heavenly light shining down upon me or such. Whatever it was it helped. Nausea rapidly subsided. Dev had also caught up. I still could not dare to eat anything, but I could drink water.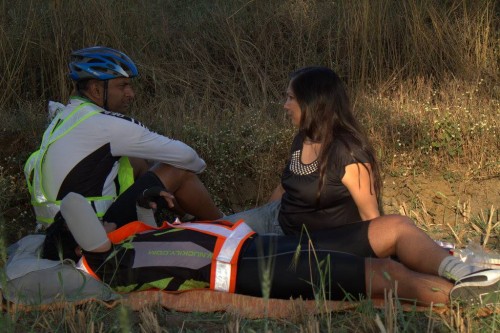 Coca Cola is good.
Dev and I made a pact that we would now stick together till Nagpur. It was soon going to be dark, and we had 85km more to traverse. Swati was concerned, she said call if you want to quit. There is no shame in quitting. I would damned if I quit after having endured so much!
I made a sage decision. I took a 600ml Coca Cola bottle. Emptied it a bit, shook it to de-gas it, kept it in the middle back pocket of my jersey. Any cold drink is so laden with sugar that it is almost guaranteed to give you a sugar high, plus some additives in it make sure that sugar is rushed to the bloodstream on a four lane highway!
The sun went down; the breeze cooled. We were doing much better than expected. We hit the last stretch, the same that we had dreaded about in the morning. It did not feel so bad at all, perhaps the experience of worse roads, perhaps the sugar rush. We kept cycling. Dev complained of Knee pain. I said let us slow down to whatever pace is comfortable. We were only 40km from Nagpur. About 12km out from the end point, I finished the last of coke. There was a slope; I pulled ahead confident that both of us are surely finishing. After a while I could not see Dev's light in the mirror and assumed that he is taking is extra slow.
The 306km mark rolled by still no sign of HB town, the last stop. 307, 308, 309… was I lost? Can't be. 310, 311, 312 – there it was!!! I had completed the 300km brevet in 16 hours 44 minutes.
It was only when I reached HB Town, that I learned Dev had a puncture. Felt really bad for abandoning him but was assured that he had changed the tube and was back on the saddle. He did complete 35 minutes after me.
Rajbeer Sokhi, like a little angel, descended with a glass of mousambi juice. I gulped it down. Hugged Swati and started laughing, I don't know at what…