You may have hated the Deepika Padukone my choice video or liked it but trust Amul to come up with apt advertisements for themselves which are also socially relevant. This is indeed a long way to come for the Amul Girl. The Amul girl was created as a response to Amul's rival brand Polson's butter-girl. The idea was conceived in 1967 once ASP (Advertising, Sales and Promotion) clinched the brand portfolio from the previous agency FCB Ulka. It was executed by Sylvester Da Cunha, the owner of the agency and his art director Eustace Fernandez on hoardings, painted bus panels and posters in Mumbai. The mascot, since then, has been mobilized to comment on many events of national and political importance like Emergency in India in 1976.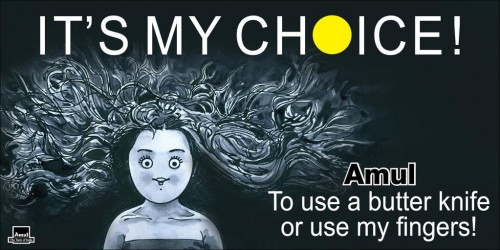 While even I do not agree to many of the statements in the narration of the original video the critics seem to have lost it and are bent on depicting women as shallow, gold diggers.
Also, the reaction video seems to pay no heed to the fact that adultery, when committed by men, is something that is almost normalised in Indian society. In fact, sexual freedom, by and large is treated as a bit of a male privilege in many sections of the society.
http://www.firstpost.com/living/vicious-and-nonsensical-the-male-parody-of-deepikas-my-choice-video-is-puerile-2180771.html
Here is what the Director Homi Adajania had to say to the critics.
"They don't understand the context or they are Internet trolls hankering for attention, or maybe they have a different viewpoint…it's a democracy and this is our view and they are entitled to theirs",
http://www.dnaindia.com/entertainment/report-deepika-padukone-s-my-choice-director-homi-adajania-hits-out-at-critics-2073475