Traditionally you cook Mutton Biryani over a slow wood fire. Modern urban life does not lend itself to such indulgences. Swati who just launched her kitchen blog has learned and perfected the art of making the complete Dum Mutton Biryani in pressure cooker. Apart from the marination which can be anything between 3 hours to overnight the cooking time is just 40 min!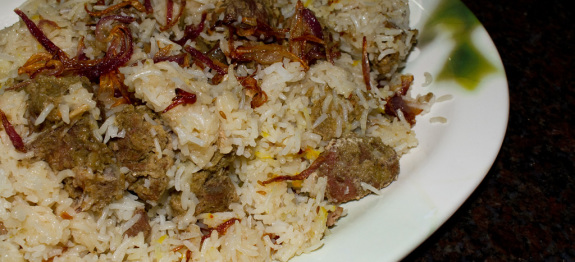 Head over to her blog and get the complete recipe. http://swatisani.net/kitchen/recipe/mutton-dum-biryani/
Some interesting tidbits about Biryani
There are two basic types of biryani: pakki ("cooked", also pukka) and kacchi ("raw", also kutchi). In pakki biryani, the cooked meat and cooked rice are layered. In the kacchi biryani, raw marinated meat is layered with raw rice before being cooked together. It is also known as kacchi yeqni. It is cooked typically with goat meat (usually 'khasi gosht', which is meat from castrated goats and often simply referred to as mutton) or with lamb, and rarely with chicken or beef. The dish is cooked layered with the meat and the yogurt based marinade at the bottom of the cooking pot and the layer of rice (usually basmati rice) placed over it. Potatoes are often added before adding the rice layer. The pot is usually sealed (typically with wheat dough) to allow cooking in its own steam and not opened till ready to serve. A boiled egg and mixed salad often accompanies the dish. It is featured in wedding feasts in Bangladesh, usually served with borhani, a spicy drink.
The non-vegetarian biryani may include chicken, mutton and sea food among types of meat. Although originally cooked with meat, biryani is now also cooked with vegetables, especially in India, where a substantial number of people practice vegetarianism. The vegetable biryani is prepared with rice, masala and non-meat ingredients such as potatoes and cauliflowers. Egg Biryani is another type of biryani.