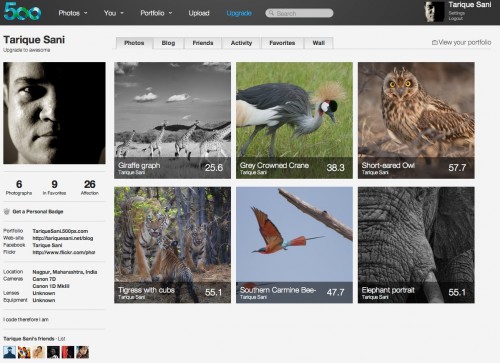 Suddenly everyone and their cousin is talking about a Flickr alternative that is attracting users in large numbers – 500px, oh! well, 45k may be large for some 😉 I have been putting my digital photographs online since past 10+ years and have moved from uploading them to my own personal site, to flickr and then joining the 500px bandwagon recently.
My first reaction to 500px was indeed WOW! this is so much better. After using the app for a while the WOWness wore down a bit, some what like the second year of a marriage, I began to notice the shortcomings. Not wanting to get too frustrated I decided to blog the good and the bad and keep using the site. May be I will come back to review this post a year later.
500px is not Flickr – the Good
The user experience on first flush is indeed very nice. The large square thumbnails with semi-transparent caption overlays are definitely how a photo website should be.
The tabbed interface for Photos, Activities, Friends etc is clutter free and intuitive.
The main photo display page gives a good 900px wide display which is much needed to appreciate a photo.
Below the main photo display is a filmstrip display of recommended photos – great for discovering photos
The concept of Blog and Wall integrated into a photo sharing site is indeed useful and nice.
The editorial picks ensure that there is a human curating the choicest of the photos for you.
You have an easy to remember URL for your portfolio with your user name eg: mine is http://500px.com/tariquesani
The portfolios can be themed and are separate from your photostream. Portfolio also has sections for Biography and Contact – Add to that the fact you can point your own domain to your portfolio and you get a ready made website solution for photographers who are web challenged.
500px is not Flickr – the bad
No public API!!! I could not find any mention of any API, no API means no upload app for any device, no possibility to create mashups or easy way to integrate your pics in other places. Yes the sharing to Facebook, Twitter etc is there but can I make a plugin for my favorite CMS? No! I may be wrong here, so if someone knows where the API is let me know.
No Geo-location integration – yes that map with red dot thingie.
No way to view extended EXIF info – these two points are very important for me.
No HTML in description, URLs in descriptions do not become hyperlinks automatically.
No way easy to see pictures in various sizes – I did discover a tedious work around though. If the photo url is http://500px.com/photo/799387 then you can view the various size images at http://photos.500px.com/799387/1, http://photos.500px.com/799387/2, http://photos.500px.com/799387/3, http://photos.500px.com/799387/4 and http://photos.500px.com/799387/5 – Update: No longer works but is available thru an API call.
No concept of permissions – everything is public by default.
No way to declare licenses for your pictures – I like to explicitly indicate that my pictures are under a creative commons license.
There are categories but no concept of groups. Special interest groups are needed to popularize your pictures to your intended audience and creating communities.
I guess I should leave the good and the bad equally balanced at eight points each. In summary a lot of effort has gone into the UX and UI part of the app now what we need to see is more features. Also I do wonder how things will scale up with increasing user traffic. Given the fact that they have received a funding I do hope to see accelerated rate of development. Plus at least at this point the developers appear to be communicating with their users.
P.S. That there are better photos at 500px as compared to Flickr will soon become moot as more and more users join in.
Update: An API was launched Mid Aug 2011 and you can get the details at http://developers.500px.com/