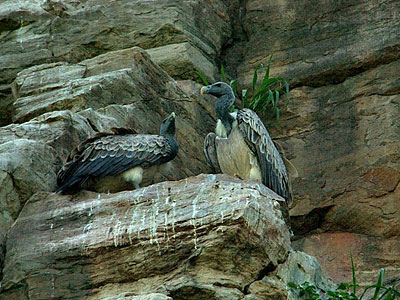 Sunday, 28th August, 5:55am – The phone rings, I spring out of bed, for once I had wished that it would indeed ring at this unearthly Sunday hour, voice at the other end said "Good Morning, 6:30?" I confirmed "Yes!" and kept the phone back in the cradle. By now Swati is up as well – "Raju?" she questioned, which elicited another "yes" from me. I was now out of the bed brushing teeth, Swati without a word brewed hot coffee for me (Did I thank you for that love? – Thanks anyways
).
I double checked my camera, flash, lenses, batteries. Put in the bread and jam sandwiches into the rucksack along with 2 liters of drinking water. Raju arrived on dot at 6:30 on his mobike, I was wearing my shoes sitting at the doorstep. Swati quickly ascertained from him as to which direction we are heading… a soft goodbye and take care… we were off!
OK! let me put the things in context here. A few days earlier some birdwatchers had reported White-Rumped Vulture (Gyps bengalensis ) sightings in Nagpur district and we were told that it is just 50Km from the city. Raju had finally managed to extract the details – I don't know why but the older bird-watchers are very reluctant to share knowledge
– of the location and that is where we were going. I am sure that if you are least bit interested in birds you will know that Vultures are fast disappearing from the Indian sub-continent and that our excitement was understandable.
We reached the first landmark village Umred about 45Kms fast enough and asked around. To our dismay we found that no one had seen or heard of Vultures being around for years… to further add to the disappointment we found that the next landmark village we were told about was in fact about 35Km further away instead of the wrongly reported 5 – the bright light at the end was the affirmation that the entire road was tarred and motor-able. Which indeed proved to be true, once again the when we reached the second village the actual site was still about 10Km and the description given to us matched to what the villagers described.
Our spirits perked up when after about 5Km we caught the first glimpse of the cliff we were supposed to reach. We were still in time despite being mislead about the distance. We ultimately reached near the base of the cliff at 9:15am, about 90Km from home.
Raju scanned the cliff face with his Binocs but I could spot 2 of the Vultures almost immediately with my naked eyes, Raju spotted 2 more – our excitement knew no bounds.
Even as I took out my camera we started walking up the hill to reach as near as we could. We knew we had just enough time with no room for errors – the air would soon be hot enough to generate thermals and the birds would glide out in search of food…
We took several pictures when suddenly Raju recalled that White-rumped Vultures preferred trees, besides these looked a bit different – so these had to be Long-billed Vultures (Gyps Indicus) and indeed he was as usual correct. At 9:45 they took to the air and it was then that we realised that there were actually 7 of these critically endangered birds!
With the birds gone we explored around the base of cliff and the cliff face a bit more. From the looks of it, Vultures have nested at the spot in the past and the numbers were probably much more.
We gobbled our breakfast while discussing how the spot can be further studied, interspersed with some lurid boyz jokes
Since we had come this long and we still had time, we decided to climb to the top of the cliff and see for ourselves how the view looked for the Vultures… This was also a sort of personal triumph because I am a wee bit scared of climbing (note: climbing not heights 😉 )
We started back for Nagpur at around 12:00 noon and reached back by 2:00pm as promised to Swati – right in time for a lunch of finger licking good Chicken Korma. Aasim and Swati had invited some of his friends over with their mother for lunch….
Hmmm… may be more of her someday.