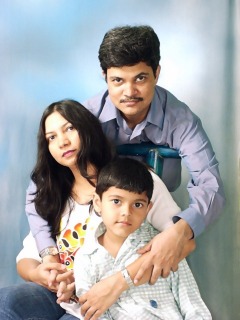 Yesterday… no not the song!!
6:45am woke up! Feeling waaaay better after ages there was no body ache, fever, itchy throat… Booted the network, every machine came up flawlessly, got in the first batch of mail, no nasty surprises – the mold was set. By 9:00 Swati had dropped Aasim to school and was back. Waking up early gave us exactly 1 hour alone before the daily hell broke loose… Everyone arrived on their respective 10:00 sharp, no major fires to be tackled. By the time I delegated dousing of the minor ones and prevented a show stopper bug it was 12:30 time to get Aasim back, had been a while since I have been to his school so I decided to tag along with Swati. Was pleased to learn that the only problem with the boy is his lack of distinction between "sh" and "ch" – who gives a damn to such chit these days!!
On way back, on impulse, Swati stopped at Vivek's studio. Vivek is Swati's childhood friend, was her neighbor and now a professional photographer. In short a perfect person to pester for our blossoming hobby. He very kindly and readily agreed that we come back in an hour. So at 2:00 we were all back in his studio… … boy oh boy each of the three main lights he has is more costly than the camera I wanted!!! Apart from tips on where to get back drop material and props etc, Swati had smilingly bargained for a shoot of our family. He took color pics, he took black and white pics and then almost as if to prove a point took my puny little camera and shot the picture you see here!! "Yes Sir!! point proved and well taken." He has also agreed to get colored non reflective back drop plastic sheets which are available in Mumbai when he goes there month end. Aasim astounded us by taking this picture, guess world does look very different from three feet high and a 5 year olds perspective.
Back to office/home by 3:15 and finding everything still peaceful we headed to "Barista" for a cup of coffee… … This time Aasim opted to stay back in the office. Now… Barista in Nagpur is adjacent to the Westside store… … Reaching there Swati informed that there was a 50% sale on!!! Since I did want Swati to have a new pair of jeans I was gullible enough. So while Swati got her first low waist flares.. I picked a shirt for myself. After which we had a leisurely cup and headed back home. Everything was indeed as expected. No calls, No mails. A quick check out of CVS showed what everyone had achieved during the day. Since there wasn't much I shooed everyone home relatively early.
The dinner threatened to be a dull affair but thanks to fabulous fish fry and fish curry sent over by my khala, it also fell in line with the rest of the day. Aasim slept of watching "Asterix and the Big Fight", It was well past midnight that we realized that we were still at our respective computers doing nothing in particular… Last I remember the clock showed 1:15am