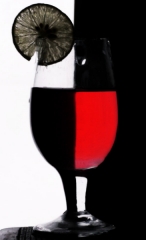 No this is not my entry for . This is a replication of a picture shown at http://dpchallenge.com. The only change is that instead of black and white sheets I used the computer monitor as the background. This would have been perfect had the lemon slice been not touching the black part. See a larger version here. I would have entered this picture had n2kaja also not done the same.
I have now started to feel the need for a higher resolution camera. Mine does just 1.3mp at that size you have to do all your composition/cropping in camera, sigh! I dont have the money to buy a new camera, damnit! I never have money. 😉
I have been playing around with a new photo gallery script for my website http://www.tariquesani.net/index.php , currently I dont plan to put anything other than my photo gallery there. This is a personal site and will have things which I don't indulge in professionally. All my technical stuff belongs to SANIsoft.
We have a fabulous lunch planned for today – I just peeked and the dough for naan has really puffed up well – been a long time that I did some serious cooking.
Oh! my entry is here